NEW BMW M4 IN KNOXVILLE AT GRAYSON BMW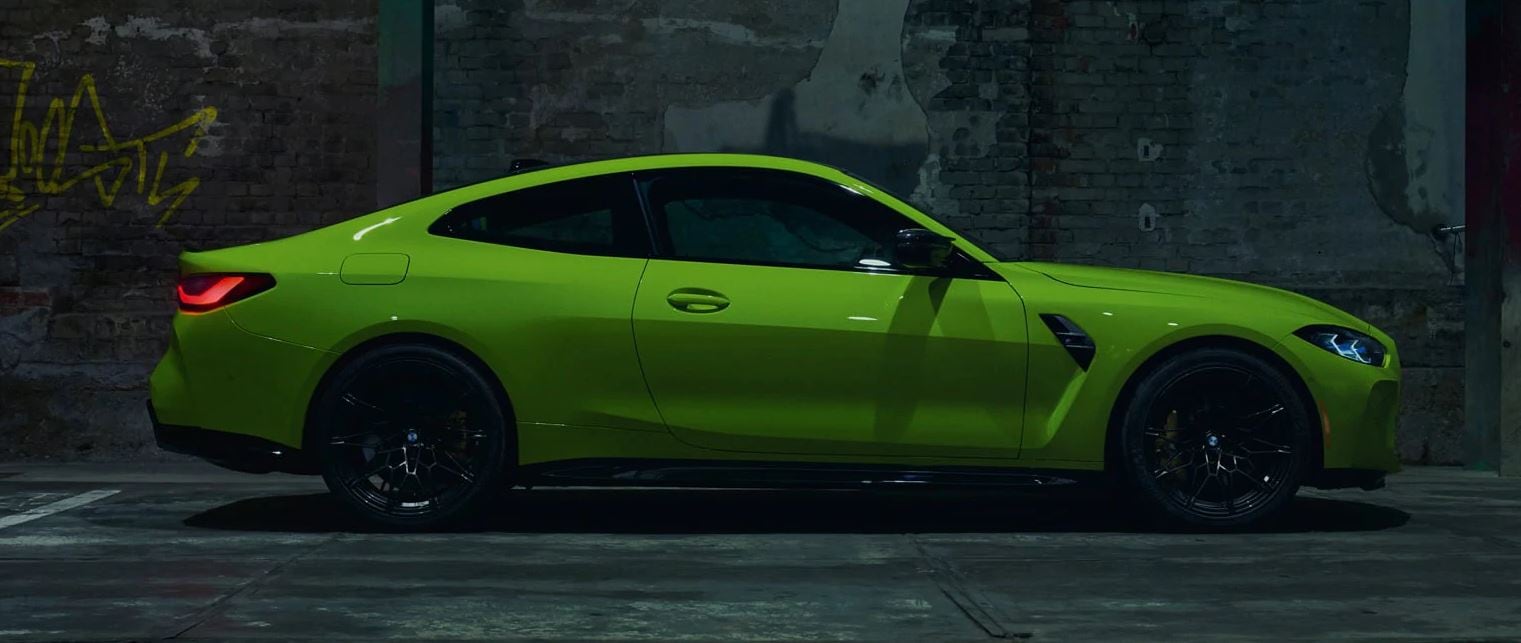 New BMW M4 for Sale in Knoxville
Discover pulse-pounding performance in a stylish package. With a new BMW M4 Coupe, you'll experience incredible power and agility as you dash around Knoxville. With great performance, enhanced safety features, and a demanding design, the redesigned BMW M4 will impress all types of drivers. Come to Grayson BMW to see for yourself what the BMW M4 can do.
Performance
Built for thrilling speed and fast acceleration, the BMW M4 is a must-have for Sevierville drivers who want to live life to the fullest.
There are two different M4 models to choose from: the M4 Coupe and the M4 Competition Coupe. Both models offer exceptional performance, but the BMW M4 Competition Coupe was designed for drivers looking to take their Oak Ridge drives to the next level. Both the M4 Coupe and the M4 Competition Coupe models use the same engine, a 3.0 liter BMW M TwinPower Turbo inline six-cylinder. The M4 Competition Coupe, however, has been fine-tuned for achieving brilliant acceleration on the track.
With the base model M4 Coupe, you'll have access to 473 horsepower and 406 pound-feet of torque. Combined with a six-speed manual transmission, the M4 Coupe can achieve a 4.1-second zero-to-60 miles per hour acceleration.
Maryville driver looking for a faster experience will enjoy the M4 Competition Coupe, which can achieve a ferocious 503 horsepower and 479 pound-feet of torque. With the eight-speed M STEPTRONIC automatic transmission, you'll go from zero-to-60 miles per hour in just 3.4 seconds.
Safety Features
No matter what type of car you're driving, you're going to want to stay as safe as possible. That's why BMW has outfitted the new M4 with many standard safety features as part of the Active Driving Assistant system. In this system, you'll find the following features:
Lane Departure Warning: If your BMW M4 notices that you're drifting outside your lane, it will alert you so that you can take appropriate corrective action.
Active Blind Spot Detection: Driving on the highway around Knoxville can be dangerous, and vehicles can often appear in your blind spot without you even noticing. With the Active Blind Spot Detection feature, your BMW M4 will alert you whenever a vehicle is in your blind spot so that you can avoid a collision.
Active Lane Keeping Assist: When you're driving on those busy highways leading to Oak Ridge, the Active Lane Keeping Assist system will help you stay in your lane so that you'll avoid getting into an accident.
With these safety features, plus some others, you'll enjoy an easy, safe ride wherever you go. Your BMW M4 will do everything in its power to keep you safe from harm.
Design
With just a single glance at the new BMW M4, you'll notice that its design has been totally revamped. As you dart around Maryville, you'll be the talk of the town with the BMW M4's impressive design.
The BMW M4 now features a redesigned grille that captures the essence of the car, with an aerodynamic design that accentuates its high-performing nature. As you move further along the exterior, you'll see impressive fenders that give the M4 its demanding personality. The full-LED headlights come with fiber-optic daytime running lights, giving this coupe a unique look no matter what time of day you're driving around Knoxville. At the back of the M4, you'll see the diffuser, a lip spoiler, and 4.0-inch exhaust tips. These features are impressive in an aesthetic sense, but they also aid the M4 in its heart-pounding performance.
No matter where you take the BMW M4, you're sure to impress pedestrians and other drivers who happen to catch a glimpse at this enthralling piece of machinery.
Meet the Limited-Edition M4 CS
The M4 CS is a fully-evolved supercar, designed specially to enhance your daily driving experience. No more boring drives home from work. With the M4 CS you'll be pushing the limit, daring to take the long way home. Strong and angular, yet streamlined and agile, this ultimate driving machine is like no other. Carbon Fiber Reinforced Plastic Components cut weight under the hood and throughout the body, making the M4 CS lean and light for the ultimate racing feel. Shredding the pavement with its exclusive forged alloy wheels, you'll go from zero-60 in under four seconds thanks to the M4 CS's top-of-the-line M TwinPower Turbo engine technology packing 454-hp.
Take a look inside the M4 CS and you'll be thrilled by the sporty Alcantara and leather trim for a true sportsman interior. Emblazoned with the CS badge, the inside of the M4 CS takes fun seriously. The distinct ambiance travels through and through, from the door panel trim forged from compacted natural fibers to the featured pull loops.
Shift swiftly thanks to the highest standard seven-speed M Double Clutch Transmission with Drivelogic. Change gears faster than ever before thanks to the separate oil cooler that enhances automatic and manual interventions from the shift paddles on the steering wheel. You'll feel the difference as you experience a cleanly executed expansion of power flow through your machine. The power is in your hands.
You're in control with the M Dynamic Mode and the Active M Differential features of the Dynamic Stability Control (DSC) system. Adjust your steering and suspension settings to your personal preference or adapt to the road ahead easily by selecting Comfort, Sport, or Sport+ mode with the flick of your wrist. Comfort mode is great for driving around the city, while Sport mode will have you cruising down the wide-turning country roads. Looking for even more action? Take your M4 CS to Sport+ mode and spin some laps around the track like a professional.
This limited-edition M4 CS, perfectly blending drivability and racetrack power, won't last long. Speak to our experts at Grayson BMW about test-driving this beauty right here in Knoxville, Tennessee. Don't wait until it's too late, these machines go fast.
Car and Driver Calls the New BMW M4 a Delight to Drive
When delivering drivers pure driving pleasure, the BMW M4 feels you with joy while traveling through the Sevierville area. One of the highlights of Car and Driver was the addition of available xDrive all-wheel drive to the New BMW M4, delivering precision control on the most technical of roads.
In addition, the M4's selection of powertrains delivers "superb" engine performance and "terrific driving characteristics. The standard 3.0 BMW Twin Power engine delivers 473 horsepower with a six-speed manual transmission and power to the rear wheels. The M4 Competition's available all-wheel-drive systems help you stay in total control while going from zero to 60 miles per hour in 3.4 seconds.
Car and Driver was particularly complimentary of the M4's handling feel. Each M4 model comes with adaptive dampers, adjustable brakes, and drive modes. One highlight, in particular, was the M4's steering prowess, delivering a feel that keeps Oak Ridge, TN drivers in tune with the drive.
Additionally, Car and Driver's review noted that the New M4 Competition's performance is beholding. The BMW M4 makes the journey feel special for Knoxville drivers, featuring exceptional grip, stability, and lightning acceleration. That's what matters the mast in the eyes of Car and Driver.
Inside, Car, and Driver's review praised the BMW M4 for having a variety of unique materials with motorsport-inspired features. For instance, the two red buttons for the customizable M drive modes were highlighted along with the available copious amounts of carbon fiber along the bolstered M sport seats to make Maryville, TN drivers at one with the BMW M4.
Car and Driver also thinks the available carbon fiber front seats are "super cool," being lighter and able to be placed lower in the cabin. Car and Driver also complement the 12.3-inch infotainment touchscreen by offering sleek looks and features, including Apple CarPlay and Android Auto integration.
Hours
Monday

9:00am - 8:00pm

Tuesday

9:00am - 8:00pm

Wednesday

9:00am - 8:00pm

Thursday

9:00am - 8:00pm

Friday

9:00am - 8:00pm

Saturday

9:00am - 6:00pm

Sunday

Closed