When you invest in a BMW, you can drive confidently knowing your vehicle includes BMW ULTIMATE CARE, covering BMW scheduled maintenance.  BMW ULTIMATE CARE includes oil and filter changes and more for 3 years or 36,000 miles, whichever comes first.  
But your confidence doesn't need to end there. You have the option to purchase an upgrade to the BMW ULTIMATE CARE+ plan, which includes the replacement of specific wear-and-tear items such as brake pads, wiper blades, and manual transmission clutch (for model year 2017 vehicles and newer).  BMW ULTIMATE CARE+ is also transferable to a subsequent owner, if you should sell your vehicle.  
If you choose to extend your coverage, BMW ULTIMATE CARE+ can be extended for 1, 2, 3, or 4 additional years or 89,000 miles for a total of up to 125,000 miles.  For applicable models, this coverage and value are unmatched.  As an owner or lessee of a new BMW, you can decide to add this coverage at any point before your BMW reaches the end of its current coverage. 

All covered BMW ULTIMATE CARE+ services are performed at an authorized BMW center, by a BMW-trained technician, using only Original BMW Parts. So your Ultimate Driving Machine® can stay that way.

Certain limitations and exclusions apply to this program.

Learn more about protecting your BMW by contacting the Grayson BMW Finance Department or your Service Advisor for a personalized quote on your BMW.
BMW Tire & Wheel Protection
Protects you from the hazards of the road.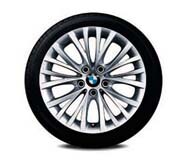 The BMW Tire & Wheel Protection program provides coverage in the event of damage to your tires or wheels as a result of metal, nails, glass, debris, potholes, blowouts, etc. (excluding cosmetic damage). You can choose a plan that covers your vehicle for up to 5 years.
Program benefits include:
    Ultimate peace of mind. You no longer have to worry about unnecessary financial hardship in the event of damage due to a road hazard. We have you covered.
    Damaged tire(s) will be replaced, not plugged or patched.
    There are no maximum number of occurrences, no claim limits and no claim aggregate.
    Benefits are not restricted by vehicle mileage.
    Program benefits continue even if you replace your tires.
    Up to $100 of towing expenses are covered.
    Transferable - adds resale value.
*BMW Tire & Wheel Protection is only available at the time of purchase of a BMW vehicle.