Maximize the performance and value of your BMW by insisting on the best available
quality BMW service: ours! Bringing your vehicle to Grayson's expert BMW Certified Technicians will insure that your vehicle gets the premium attention it deserves. Whether it's a routine inspection, preventative maintenance or service, our pro-active technicians work diligently to confirm that your vehicle remains in excellent driving condition, saving you trouble and assuring that your BMW always provides the ultimate driving experience
BMW Inspection I

Tune-Ups

BMW Oil Service

BMW Microfilter replacement

Fluid and coolant flushes

Preventative Maintenance

Battery Service

Brake repairs (pads or rotors)

Mufflers and Exhaust

Shocks and Struts

Air Conditioning and Climate Control

Glass Repair from BMW

Tire services

Alignments

Special Order Parts Installation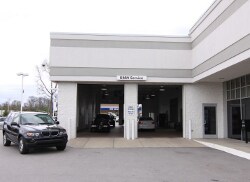 BMW's refusal to compromise on quality is part of what makes it the Ultimate Driving Machine. All cars, however, require regular maintenance to ensure that all parts are in working order. Neglecting even simple routine BMW maintenance, such as changing the oil or checking the coolant, could lead to poor fuel economy, unreliability, or costly breakdowns. It may also
invalidate your warranty.
Our expert BMW Certified Technicians will ensure fluids are at correct levels and that worn out parts are replaced. Like you, we prefer to find issues before they cause you a problem!
We welcome you to please visit anytime, and check out our great BMW Auto Repair Service Special Offers!
Grayson BMW's service facilities are second to none, which is why customers from all over Tennessee come to Grayson BMW to service their vehicles. For the best quality car repairs in Knoxville, make Grayson BMW your destination. Make a convenient online service appointment or give us a call at (865) 693-4555.
We look forward to helping your car run like new for years to come!